Friendship is a sacred bond between people. It is a special kind of love between them. Many of you must have tried searching for a friend but never found the right one. But when you did, you have them in your lives today supporting you in all your good and bad times. And many of you may have not been able to find your best friend yet but when you do find him/her, make sure you hold onto them!
Friendship can be between partners, family members, co-workers and the people whom you may have known ever since your childhood.
Friends always think what's the best for you. They won't care if they had to lose something very important they have, if it buys them their friend's happiness. Friends are always there for you  whenever you need them. They are there to join you in when you are laughing merrily, they are there to calm you down when you are anxious, they are there always besides you when you are angry even though you tell them to just stay away from them, as they know that deep inside…you need them. They are always there to wipe away your tears and lend you a shoulder to comfort you whenever you are going through tough times.
Some of these quotes may be very profoundly beautiful, some may be thought-provoking, some may be poignant and some may even be funny.
Just browse this awesome collection of friendship quotes that you may want to share with your friend to make them realise how beautiful your friendship is!
1. "Friendship is the hardest thing in the world to explain. It's not something you learn in school. But if you haven't learned the meaning of friendship, you really haven't learned anything." – Muhammad Ali
This quote explains about the fact that friendship is really beautiful yet hard to explain. The relationship between two friends is what only those two people can understand. But if you never had a friend and don't know the true meaning behind friendship, your world will remain incomplete.
2. "A friend is someone who knows all about you and still loves you." – Elbert Hubbard
This quote so splendidly describes the beauty of friendship. True friends are those who know about your good and bad qualities, your hobbies and interests, you strengths and weaknesses. Even if you have some bad or funny or bizarre habits, they are still there for you. If you need help, they will tell you and support you throughout. Friends will love you no matter what you are and who you are. They are always close to your heart.
3. "No friendship is an accident." – O Henry, Heart of the West
This quote is really apt to describe friendship. Friendship is a relationship that builds over time. If you have a true friend, that friendship is what will always remain with you anywhere you move forward to in your life.
4. "I would rather walk with a friend in the dark, than alone in the light." – Helen Keller
This quote tells about the way friends support you in all your good as well as dark times. Whenever you are in a trouble or going through the darkest period of your life, your friend will always choose helping you over anything else. Friends always support you and help you go through difficult times. This is the charm about friendship.
5. "Friends are those rare people who ask how we are and then wait to hear the answer."- Ed Cunningham
Many people ask you about your day and your well-being. But have you ever wondered how many of them truly want to get to know about your feelings? Friends always take interest in your well-being. They are good listeners. They always listen to your feelings and are always there to give you suggestions or comfort whenever you need them.
6. "Friendship marks a life even more deeply than love. Love risks degenerating into obsession, friendship is never anything but sharing." – Elie Wiesel
This quote expresses the fact that friendship is the purest form of relationship. In love, you make risk getting yourself involved in obsession, jealousy and anxiety. But, friendship is all about sharing. It is about caring for the people whom you are friends with. Friends always keep your happiness above anything else.
7. "Friendship is born at that moment when one person says to another: 'What! You too? I thought I was the only one." – C.S. Lewis
This quote emphasises on the very charm about friendship. Friendship starts when you get to know about each other. You tell your secrets, likes and dislikes to a person and start feeling good about having them to tell about it. This is when you have built a bond with that person. A bond of friendship.
8. "It takes a great deal of courage to stand up to your enemies, but a great deal more to stand up to your friends." – Harry Potter and the Sorcerer's Stone
This quote is from JK Rowling's stupendous book of Harry Potter and the Sorcerer's Stone. This tells us the fact that how much ever you try, you can never stand up against your friends. It is the most difficult tasks of all. You love your friend and that is all that matters for not being able to go against them.
9. "Lots of people want to ride with you in the limo, but what you want is someone who will take the bus with you when the limo breaks down." – Oprah Winfrey
This quote tells us about the fact that a true friend is the one who is there for you in your greatest of ordeal.
They always lend a hand to you, no matter what happens.
10. "Anybody can sympathize with the sufferings of a friend, but it requires a very fine nature to sympathize with a friend's success." – Oscar Wilde
This quote is just remarkable. It tells us that you are a true friend not only when you sympathize with your friend in his/her tough times but also celebrate your friend's success with sheer happiness.
11. "The most beautiful discovery true friends make is that they can grow separately without growing apart." – Elisabeth Foley
This quote reminds us about how beautiful and amazing friendship is. No matter how much far you are from your friend, no borders and no distances can weaken your friendship. The bond always remains there, no matter where you are.
12. "Tis the privilege of friendship to talk nonsense, and to have her nonsense respected." – Charles Lamb
This quote is just so astoundingly beautiful. The most wonderful thing about friendship is that no matter how much nonsense and crazy stuff you talk about to your friend, he/she will always lend an ear to you and also laugh along you all by his/her heart.
13. "A true friend never gets in your way unless you happen to be going down." – Arnold H. Glasgow
What a stupendous quote by Arnold! This quote highlights the fact that a true friend never hinders your path. He/she will always respect your feelings and decisions that you make in life. But, if you are going on the wrong path, those friends will make sure to hold an intervention for telling you about it.
14. "Friendship is delicate as a glass, once broken it can be fixed but there will always be cracks." – Waqar Ahmed
This quote tells about the fact that the bond of friendship is really delicate. If you are not able to sustain it and make a terrible mistake that is not amendable, you make end up just losing that friend.
15. "The only way to have a friend is to be one." – Ralph Waldo Emerson
This superb quote by Ralph tells us that you can find a friend only when you know how to be a friend. You must always care for your friend and be a mentor to them as and when required.
16. "True friendship comes when the silence between two people is comfortable."- David Tayson
This remarkable quote by Tayson emphasises the fact that friendship is true only when you are comfortable with your friend no matter how crazy they are.
17. "True friends are like diamonds — bright, beautiful, valuable, and always in style." – Nicole Richie
This quote by Nicole tells us about how unique and precious the bond of friendship is. She compares friendship with diamond to emphasise on the fact that it is very precious and valuable. One should take care of their friends always.
18. "A real friend is one who walks in when the rest of the world walks out." – Walter Winchell
This quote expresses the fact that a real friend is the one who supports who at times when there is no one to look out for. They are always there besides you are your guardian angel, always ready to make you happy.
19. "A friend is someone who understands your past, believes in your future, and accepts you just the way you are."- Anonymous
How do you describe your friend? Is he/she funny, adorable and makes you feel happy all the time? True, indeed. A friend always understands you and accepts you the way you are, even though had some rough past.
20. "A friend is someone who gives you total freedom to be yourself — and especially to feel, or not feel. Whatever you happen to be feeling at any moment is fine with them. That's what real love amounts to – letting a person be what he really is." – Jim Morrison
This famous quote by Jim Morrison tells us about the true essence of friendship. Friendship is about loving, caring and respecting your friend. It is about being with your friend no matter how crazy they are.
21. "Friends should be like books, few, but hand-selected." – C.J. Langenhoven
This quote tells us about the fact that it doesn't matter if you have a handful of friends or even one single friend. It is better to have few faithful and selected friends rather than many who may even not be there for you when you need them.
22. "A strong friendship doesn't need daily conversation or being together. As long as the relationship lives in the heart, true friends never part." – Anonymous
This quote tells us about the fact that if you have a strong bond with your friend, then, you don't need to be together always and talk daily. Friendship is a way of connecting with the hearts of your friends. It doesn't matter how much far away you are from them, that true feeling always remains intact.
23. "A friend who understands your tears is much more valuable than a lot of friends who only know your smile." – Anonymous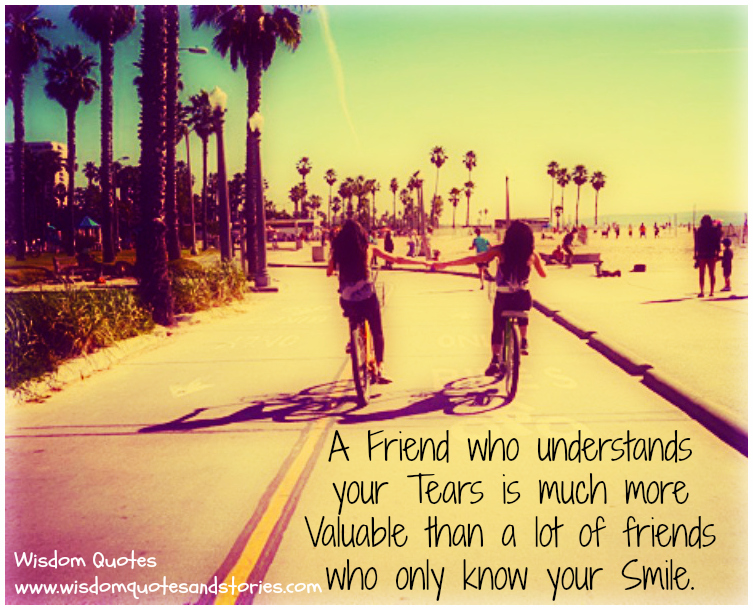 This quote is about the true meaning of friendship. Your true friend will always understand your feelings whether you are sad or lonely. They will always support you. But, those friends are better than people who don't understand you and love you for the person you are.
24. "You have been my friend," replied Charlotte. "That in itself is a tremendous thing." – E.B. White Charlotte's Web
This quote tells us about how amazing friendship is. If you have a friend with you who is faithful to you, loves you no matter what happens and respects you for the person you are, then you are the luckiest person in the world.
25. "Be slow to fall into friendship, but when you are in, continue firm and constant." – Socrates
This quote fantastically expresses the facts about friendship. You must be careful when you make anybody your friend, not everyone is faithful but if you make someone your friend, you must always hold his/her hand through all times.
26. "Wishing to be friends is quick work, but friendship is a slow ripening fruit." – Aristotle
This quote tells us about the time and patience required to find a true friend. Friendship is based on faith and mutual trust. It required time to build such trust in each other.
27. "A friend is someone who can see the truth and pain in you even when you are fooling everyone else." – Anonymous
This quote tells us a great deal about friendship in just one line. When you are sad and lonely and you try to hide your pain with a fake smile, your friend understands you and knows how you feel.
28. "Dear George: Remember no man is a failure who has friends." – It's a Wonderful Life
This quote is from the epic movie It's a Wonderful Life". This quote aptly explains the true feeling about friendship. It tells us that if you have friends in your life, then nothing is difficult to achieve in this world since they are always there to support you.
29. "If you're alone, I'll be your shadow. If you want to cry, I'll be your shoulder. If you want a hug, I'll be your pillow. If you need to be happy, I'll be your smile… But anytime you need a friend, I'll just be me." – Anonymous
This extraordinarily fantabulous quote is just self-explanatory. A friend in need is a friend indeed.
30. "A friend is one that knows you as you are, understands where you have been, accepts what you have become, and still, gently allows you to grow." – William Shakespeare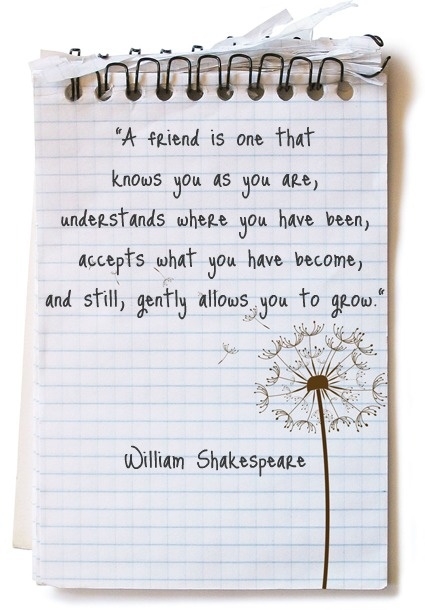 This stupendous quote by the legendary William Shakespeare tells us about friendship's beauty and charm. A true friend always knows you better than anybody else and accepts you for the person you are.
31. "A friend is someone who knows the song in your heart and can sing it back to you when you have forgotten the words." – Anonymous
This marvellous quote tells us about the fact that a friend knows you the best. Even though if you are in you hard times, your friend never stops to support you. Even if you feel yourself in a situation of extreme hopelessness, then your friend reminds you of who you are.
32. "Friendship isn't about whom you have known the longest… It's about who came, and never left your side…" – Anonymous
This quote tells us about true friendship. It doesn't matter for how long you were friends with anyone. The only thing that matters is that whether or not those friends stayed by your side till the very end when no one did.
33. "In the End, we will remember not the words of our enemies, but the silence of our friends." – Martin Luther King, Jr.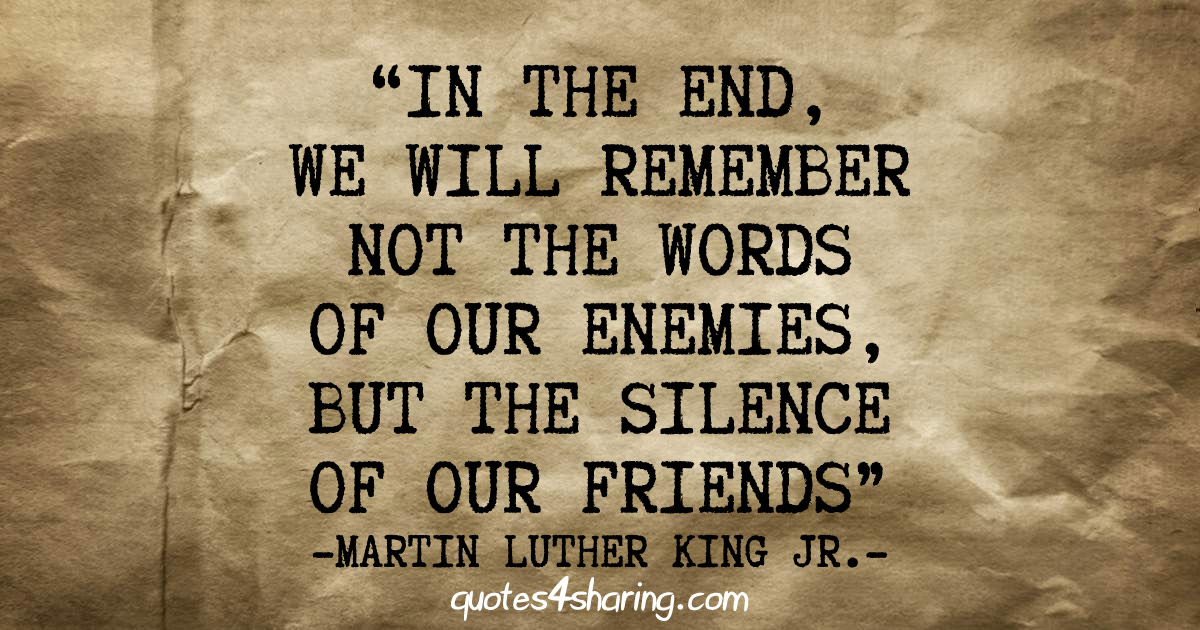 This remarkable quote by Martin Luther King Jr. tells us about the fact that friends always remain with us. We always remember the good times that we spend with them and not the bad things that happened to you long back.
34. "It's very hard to find true friends when your life is a bumpy ride full of twists and turns. But, I'm glad that amidst all the ramblings in my life I have managed to win some great friends." – Harbhajan Singh
This quote by Indian cricketer Harbhajan Singh tells us about the true essence of friendship in life. We all have a lot of hardships in our lives, life is full of ups and downs and due to these low downs, it is very difficult indeed to find true friends. If you still manage to find a couple of friends indeed your struggles, you must hold tight to them because it is very difficult to find true and faithful friends in your life.
35. "You don't have to have anything in common with people you've known since you were five. With old friends, you've got your whole life in common." – Lyle Lovett
This quote by Lyle Lovett is indeed splendid. It tells us about the fact that even if you and your childhood friend don't have many things in common, it doesn't mean that your friendship won't last. Friendship doesn't have any barriers. If you love your friend, you care about them no matter what they like which may be different from things that you like. The most important thing that you share with your childhood friend is the most precious and valuable moments that you spend with them in your entire life till now.
Friendship is bliss!